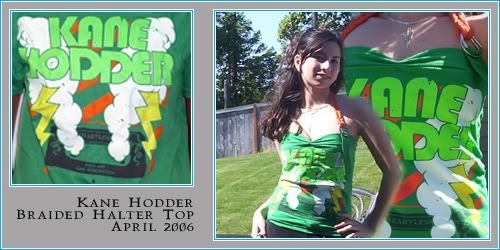 Kane Hodder
This is one of my all time favorites! I started with a simple tube top, then banded the top and made a sweetheart neckline - but i didn't have the boobs to hold it up, so i braided strips from another orange t-shirt, added some d-rings - and made it into a halter top! Also, Kane Hodder is A+ music.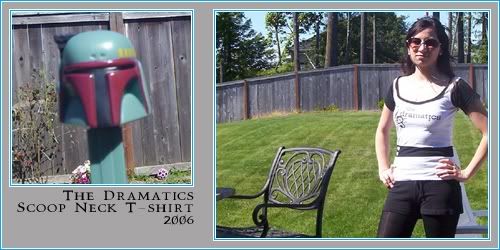 This was a simple white Dramatics shirt, but I scooped the neck, added black sleeves and the band in the middle. I also stuck 3 white buttons on the band, but you can't see them very well. I don't like the placement of the band though, i think it makes me look stumpier - so i might go back and re-do it higher or lower.





I love the Lonely H, but i don't know how i feel about this halter top. It's cute and all, but i messed it up so many times, the side stripes are really messy, mostly because i was too lazy to change the thread, so you can see the green all up in the yellow stripes on the side. It's kind of awkward. Boo.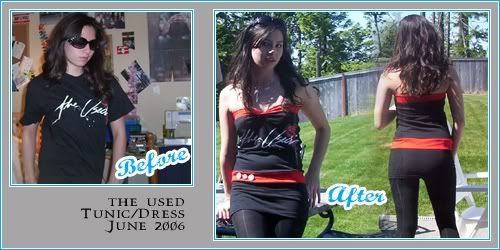 I'm really excited about this one - it looks so good! But it's a little bit big for me, so it's pinned in these pictures. I simply turned this one into a tube top and added a red band at the top, like the Kane Hodder one, and then one in the middle to make it longer. I was trying to make a dress - but i didn't account for the size of my butt, so it's a little short. Whoops.




Question! I really need to make some ca$h this summer, and nobody will hire me since i need to take about 800 days off anyway for family stuff. So, i was thinking about trying my hand at reconstructing for e-bay. My only problem is that I don't have a serger, so my stuff won't have clean insides like professional clothes. What i make now is pretty neat and sturdy anyway - but i'm just wondering if not serging is a deal breaker. What do you think? Also, are things like the Used and Kane Hodder shirts good enough to sell?