hi everyone! this is my first post here, and i guess one of my first "real" reconstructions. (i usually just stencil shirts, this time i actually shred that stuff up.)

so i went to this year's bamboozle, and my boyfriend knows that band, valencia. so we were talking to them at the merch booth for a while, and i felt compelled to buy a shirt, so i got one in a size medium (i'm a small) and put it on over the 82375 other shirts i was wearing, and it was fine, but when i got home and put it on, (not over 348545 other shirts,) it was so big! :( so i thought it was too cute to just sit in my drawer, so i cut it up and made a tote bag!

view the bag in all it's glory: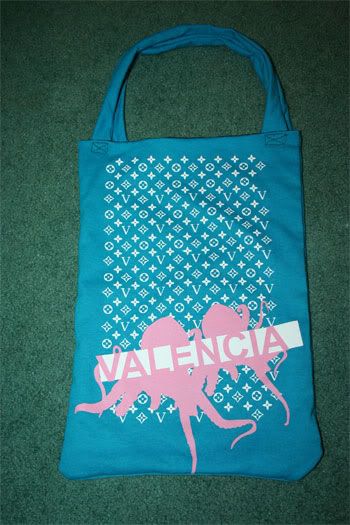 it's hand-sewn and lined with a black canvas-y fabric to make it extra durable. i'm really happy with the outcome :)

whattaya think!?