Oh my God, first surgery! Well, I've been lurking. And I felt bad. Also, I've been really tired lately and what better way to spend your time then hunched over a sewing machine killing your back? But it's in support of Tilly and the Wall. So it's all good.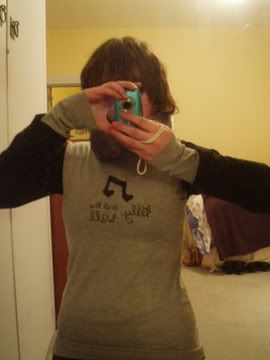 Why, yes, it
is
a mirror shot of the Tilly and the Wall shirt I made. I attacked a grey t-shirt and a black t-shirt and just smushed them together. My stomach isn't bulging or anything there; it's just the way the fabric's sitting.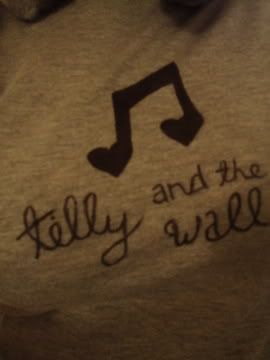 I really couldn't be bothered going out and getting fabric paint, not to mention I have no money and suck at stencilling. So this is marker-pen. Which I guess is pretty obvious.
I dunno, I like it. Nyah. And sorry the photos suck. However, you can kind of see my earmuffs. Which compensates.