so i was going to wait until i had more things done before i posted buttt my sewing room is being occupied by some random chior kids we are hosting and i cant go in there and mess up the beautifully clean room! hahaha so heres a few things...

i bought little boy batman pajamas to wear, and a pair of superman ones came with them. i hate superman, but the bff loves him. so i made her a purse for her birthday. i dont have a surger yet, so i made everything so that no seems show. (i hate when i make things unsurged, i feel like its so unprofessional, especially when theyre a gift). anyway, she loves it and carrys it everywhere...so im thrilled!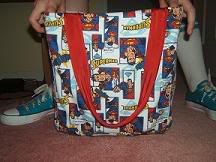 (thats her feet)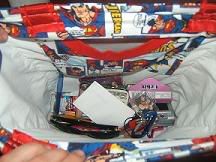 i made an identical copy of the purse out of an old bed sheet, and used that as the lining in order to hide seems and make it sturdier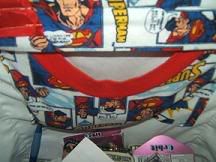 and i made the pocket out of the neck of the shirt. i think its adorable. haha

next: i had this shirt that my brother got in england. its the softest material ever...but they shrink weird. so his large shirt shrunk up..but not in, leaving it rather akward to wear. i had already made it into a tube top a few years ago...but never finished it. im big into dresses this summer, so i combined it with a red t-shirt and parts of a white tube top to make this.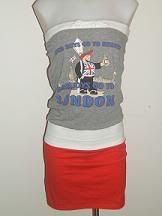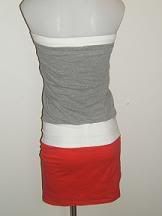 this one i made at least a year ago...but i just discovered it. i think ive lost some weight because it fits me quite well now (minus the boobs..those never fit anywear! haha) its an old toby keith shirt i got at one of his concerts. i used the ten minute skirt to make the bottom part and just cut out a top for the rest of it. the ties are made of a rather long shoe lace.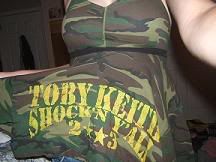 and the last one i have is just a plain t-shirt that i stenciled. i drew it up on freezer paper, cut it out, and painted it on. i like stenciling....i hardly do it though.


(rocking my brothers hand-me-down AI lacrosse shorts. haha cuuutttee)

thats all for now...hopefully there will be more soon. i just picked up some little mermaid sheets from goodwill...and ive started a few inspired projects.

KEEP UP THE GOOD WORK EVERYONE!!! i love coming to this site everyday!
♥