before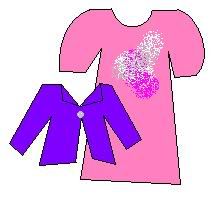 so I had this really small purple satin blouse and a huge t-shirt/nightgown thing. I really wanted to do something for the blouse but couldn't think of anything. So earlier when I cut out a ton of fabric from the pink shirt and resized it, I used the rest to re-do the purple one.

So here we go: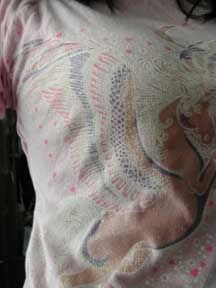 I basically cut out the neck and along the top to make this long high empire headline; then I cut about six inches from the front, pulled the unicorn to the side and resized the shirt. Sleeves are elbow length. I suck at taking pictures of myself.

for the purple blouse I added a pink stripe to the sleeves, added on to the bottom, and redid the middle in a lace-up way.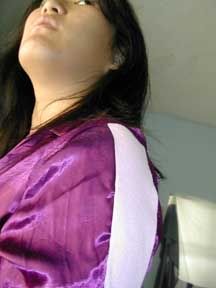 does anybody have suggestions for doing the ribbons? my method was pretty tiring; I cut out small bits and made loops and sewed them into the lining of the middle then used one long ribbon to tie it all up. like a shoe.

one last shirt for me; I just changed the neckline.





I had bits of a white t-shirt in my scraps so I decided to make Sasuke new clothes to fit the new manga chapter in Naruto (spoilers for ch. 308 below.)

So to make the yukata I just took a sleeve, cut out a v-neck and hemmed it. the assbow is courtesy of my knotting skills.
this was my first plushy attempt with my sewing machine; I usually sew all my plushies and accessories by hand but hemming takes forever. Plus t-shirt material is much kinder on the sewing machine than felt.


in the front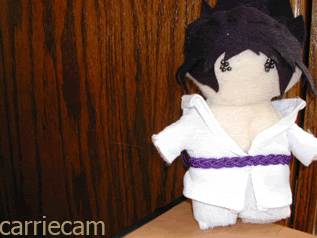 and in the back



for more plushie pictures see here.